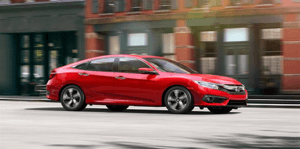 Pre-Owned
We offer high quality used vehicles, including Honda cars, trucks and SUVs.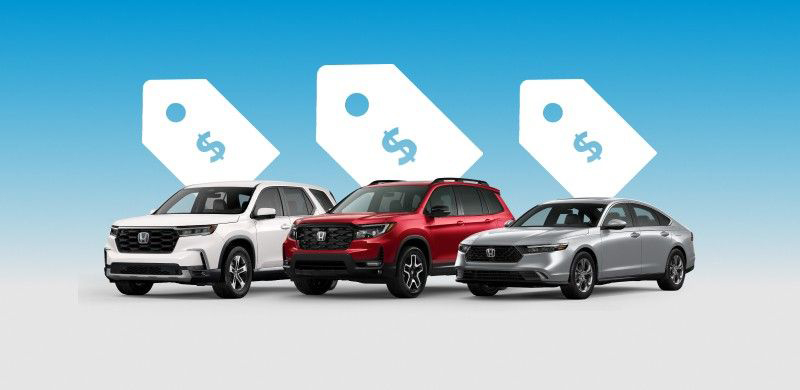 Current Offers
See this month's featured current offers going on now on new Honda vehicles.
Our Reviews
I spent a entire week trying to purchase a new Passport Elite and had no luck finding one so I started looking at the certified preowned ones. I was in contact with dealers from Miami to Jacksonville just trying to buy one of the ones they had advertised at the price they had them advertised for. All of them had ridiculous hidden fees, everything from $400 for nitrogen to $1500 for a lojack system. Fortunately I found a Passport Touring AWD CPO here at Sanford Honda. I called and was lucky to get Junior on the other end. He straight up told me exactly the cost to the penny. I drove in about 730pm on a Friday night and drove out in my new Passport about 30 minutes later. It was the quickest and simplest deal Ive ever made on a car. No BS, no dragging, no high pressure pitches. They were all very professional and very thankful. If your looking for a Honda, call Junior, he will hook you up. The finance guy was awesome too. THANK YOU SANFORD HONDA 🙌🏻
Tonya was awesome! Great service! Thank you so much!
Ma Tonya is awesome she is an outstanding individual!!
It was a pleasure working with Allen and the team at Sanford Honda. This is an example of a well managed dealership. They made the process so easy and did whatever it took to earn my business. I would definitely recommend this dealership to friends and family! I love my new Accord!
Two years ago I bought a 2020 accord sport from Charles and Tim. These guys left such an impression on me that I would only consider them for this purchase. I didn't want to buy from anyone else so I patiently waited until I heard they had in exactly what I wanted. As always the process was super easy. Took less than an hour total. Charles helped me via text since I live in Fayetteville and refuse to go to those other guys. Once I arrived I was greeted with such friendly smiles and personalities. Penny helped me since Charles was there today and of course tim did the financing quick and easy as always. Once I signed I received a congratulations from Charles which I loved. Take my advice and buy from these guys. They are tenured professionals who love their jobs and it is very apparent. Thanks again Charles, Tim and penny. I will see you in two years !!!
Sanford Honda ALWAYS gone above and beyond to help us. Brandon in service and the parts department (Larry and Rhonda) are just awesome to work with. They have advised and help us in so many ways. Thank you, Thank you, Thank you! I wish there were 10 stars to give!!!!
The service I received here was absolutely awesome. Jerrod was great from start to finish. I am very pleased and looking forward to future business with Sanford Honda .
I arrived at the service center after a bit of a stressful afternoon with my CR-V. I was greeted by Brandon who patiently listened to what I explained. He immediately knew what I needed and within minutes, provided a plan and his recommendation. I would also like to add that another employee saw me waiting and was quick to ask if I had already been helped. It was close to their closing time, so I explained that I'd be happy to leave it overnight if I needed to wait until tomorrow morning for service. Brandon explained that they would get my car serviced and have me back on the road that day! The service was quick, friendly, and I was so confident driving my car off the lot! I live in a different city, but I will be going back to Sanford Honda for all of my future service needs!
Allen went above and beyond any car salesmen in the area. He had my insight ordered new and delivered in a month. He underpromised and overdelivered. Great communication throughout the buying process. Also, the dealership was great overall. Everyone was nice and it had a relaxed feel. Loved the experience here!
My husband and I purchased a 2022 Passport earlier this month and we had a great experience! Our salesman, Alan made it an extremely easy purchase! Today, I had a small service issue and Anthony in the service department took care of everything for us. This Honda team is awesome and I recommend anyone looking for a vehicle to visit Honda of Sanford, they really go above and beyond for their customers!!!!
We purchased a Honda Odyssey from Sanford Honda this past weekend and had the very best experience. Jerrod and Tim were wonderful - very thoughtful, helpful, and made the buying experience easy and even fun. I am not someone who looks forward to buying a new car (We traded in a 2008 Odyssey!) but I will look forward to working with these guys again. Great car buying experience from start to finish. Highly recommend!
I drove my daughters 2015 Accord in for a alignment and transmission service Brandon was the service advisor and was very professional. Everything was done on time I was completely happy with the serivce department. I will be back again and would recommend Sanford Honda.
After multiple bad experiences at another Honda dealership, I recently went to Sanford Honda for a weird noise in my engine. Brandon was my service manager and took good care of my Pilot. He had great communication, went to bat for me when the initial diagnosis and repair didn't solve the problem and came up with a better solution than the technicians gave him. I truly appreciated his hard work and great customer service. Even with the extra travel time and trips back and forth, I had a better experience here than any other dealership to date. I'll be back with my Honda!
Great experience. Very good salesman and friendly staff. I had pleasant experience and was treated fair never felt like I was being pressured. I recommend everything was a 10/10. Love the new car.
Great experience. Salesman Jarrod was great. I recommend this place if you're looking for new/reliable vehicle.
My daughter's first car purchase experience was absolutely GREAT. Mr. Allen and Mr.Stacy made her feel very comfortable and like family. She is very happy with the service and the way the TEAM @ Sanford Hondas helped her. Hats off to the GREAT TEAM @SANFORD HONDA YOU NOW HAVE ANOTHER FAMILY TO DEAL WITH ON ALL FUTURE VECHILE PURCHASES THE MARSH FAMILY AND THE TEAM @SANFORD HONDA HAVE BEEN A BLESSING TO OUR FAMILY THANKS IS ALL WE CAN SAY MAY GOD BLESS YOU THE FREEMAN FAMILY 👪 ❤
We purchased a Honda Fit (used) for my mother-in-law a few years ago. It fits her perfectly (no pun intended). She loves her red Fit and she took a shine to the salesman Ollie. Ollie is now the service manager, last week she took her car in for service. As always, she was pleased with the way that the staff treated her and her car. This place is great, especially Ollie!
My Daughter purchased a car Quick and efficient service
Amanda and Jerrod were amazing and so easy to work with in purchasing our new Honda CRV. The easiest car-buying experience I have ever had. Would definitely buy from them again.
Honda Service & Parts
Sanford Honda knows that the key to building a long-lasting relationship between car buyer and dealer is great service after the sale. That's why our Honda dealership in NC has experienced and reliable Service and Parts departments that are open extended hours to help fit our customers' hectic schedules. Pressed for time? Call one of our service advisors now, to schedule an appointment that works best for you – 919-888-4856
Our certified service technicians are trained on the latest technology, and you can count on your vehicle being serviced on the latest equipment for fast, reliable repairs and maintenance. Whether you just need a routine oil change or major engine work or Honda recall work, our service department will get you back on the road in a timely manner.
If you are more of a fix-it-yourself person, then you can take advantage of ordering Honda parts and accessories from our parts department. That way you can feel confident that you are getting quality, genuine Honda parts in NC that will help you get the job done.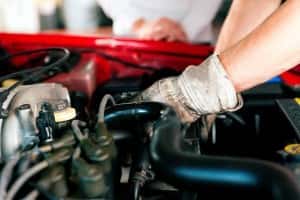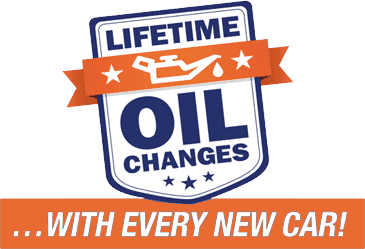 Welcome to Sanford Honda
Your vehicle is one of the most important things that you own. Instead of working with just any car lot or trying to handle everything online, get all your automotive needs satisfied at a dealership that will do more. Car buyers from Fayetteville, Southern Pines, Raleigh-Durham, Lillington, and Angier visit Sanford Honda knowing they will find a huge selection, great prices, and exciting resources to make buying and owning a vehicle easier.
We carry the full lineup of new Honda vehicles including affordable sedans like the Civic, powerful crossovers like the CR-V, and functional family vehicles like the Odyssey. There are also a number of pre-owned options to browse including models from many major automakers. All of our vehicles are priced as low as possible from the start to help you avoid haggling and uncertainty. Plus, each new Honda purchased entitles you to a lifetime of no-charge oil changes for as long as you own your vehicle.*
Once you find your ideal car, our financing team is here to get you approved for an auto loan. And in most cases, you can roll out of our dealership in under an hour. In every way possible, we offer a better way for drivers to upgrade their vehicle.
If there is anything we can do to help you compare models, understand features, explore pricing, or access ongoing services, don't hesitate to ask. Our entire team is here to ensure that you have a stellar experience every time and all the time. Visit us Monday through Saturday at 3130 S. Horner Blvd. in Sanford, and if you have questions of any kind, don't hesitate to contact us.
*Available on new car purchases only. Includes oil, oil filter and labor. All factory-recommended services in owner's manual must be performed at Sanford Honda. Non-transferable, no cash value. See Sanford Honda for details.
Get Directions To Sanford Honda